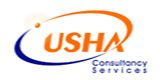 Usha Consultancy Services Ltd.
Providing quality SAP services.

Specialist SAP Services
SAP Sales and Services, Sales Order Management, Financials, Analytics,
FICO, BI, APO, CRM, ABAP,
Manufacturing,
SCRM,
Logistics,
LO,
Treasury,
FA, MA, SRM
Portfolio/Project Management,
EAP, SAP BI, BO

Specialist SAP services :
"Usha Consultancy Services helps enterprises leverage SAP Solutions to efficiently and effectively manage Enterprise Resource Planning (ERP), proactively handle Supply Chain Management (SCM) and build sales and marketing efficiency through Customer Relationship Management (CRM)."

Consultancy services :
"Usha Consultancy has access to the right pool of IT resources in the UK and Europe, as a part of our Consultancy services, we can help you with providing Managed staffing solutions for your Permanent role needs as well as Contractual needs."
Established in the year 2004, our main focus is on providing managed Consultancy services; Enterprise development and IT support services especially in the area of SAP. We cater to all areas of SAP ERP namely, SAP ECC, CRM, IS-Oil, ABAP, Integrating SAP & Non-SAP Sysyems using SAP NET WEAVER, XI/PI, ALE/EDI, SAP BC & Web methods technologies. We also specialise in software development in web technologies namely Dot Net, Java/J2EE and all open source technologies like Php, Joomla, Drupal and Magento apart from all major database like Oracle, SQL server.